Old school friends reunited
Soham Grammarians get together: From left, former teacher, Lionel Hart, current principal, Dr Alan Bullock, Edward Armitage and Dr Keith Fuller.
Some 100 former Soham Grammar School pupils returned to their roots earlier this month for a reunion. And there were two special guests.
Dr Keith Fuller, a retired Oxford Don, who originally came from Soham and was educated at the school, returned for the special dinner held at the school's Beechurst Hall. And so too did Edward Armitage, who was headmaster at the school from autumn 1945 until the school became a comprehensive in 1972.
Organiser, Roger Lane, of Sand Street, Soham, said the annual event went "very well".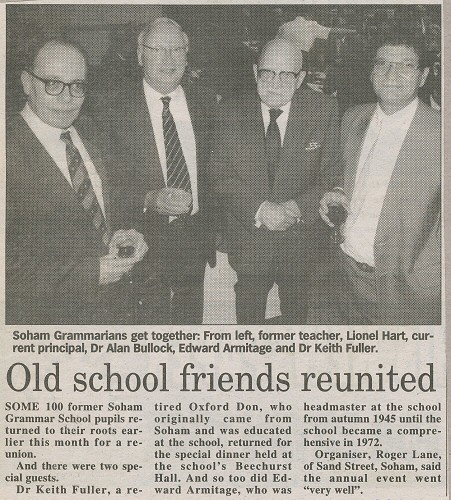 source: Anne Lane